Last year's Game Developers Conference had 26,000 industry professionals under one roof. That's a heck of a lot of networking opportunities. If you're reading this article, then you want to get better at connection with the right people. But I can hear the excuses already!
"But I'm an introvert."
So are Barack Obama, Warren Buffet, Mark Zuckerburg, and Bill Gates.
I'm an introvert as well who has spent the past decade figuring out this whole "networking" business.
So hold your "buts" for now (or put them in the comment section), and learn from my mistakes.
Why is Networking So Hard?
As a child, you're hurled into a room of other confused children and told to make friends. When you're older, you try your hand at professional networking at so-called "networking mixers" where multi-level marketers try to sell their products to each other.
Then, when you go to a gaming convention, you locate the guy wearing the cool Zelda t-shirt and spend the next three days tethered to your new friend because, "Everyone's lame here."
I was like you. Right out of college, I participated in gaming conventions to find my tribe of game developers. After spending tens of thousands of dollars (conference tickets and air travel ain't cheap), I gave up.
But something changed when I quit attending conventions as a fan and treated it like a job. I committed to learning the craft of networking. Now, I leave conventions with lifelong friends/future business associates—ones who send Christmas cards and let me crash at their studio.
Networking Professionally
In this three-part series, I'm going to teach you how to network at a gaming convention. Follow me and you'll jumpstart your process on building lifelong relationships with the top influencers in the world.
For now, we'll be looking at how to network before a convention. Next, we'll discover strategies to connect during a convention. And finally,we'll learn how to keep your connections by networking after a convention.
Ready? Let's jump right in.
What's The Point of Networking?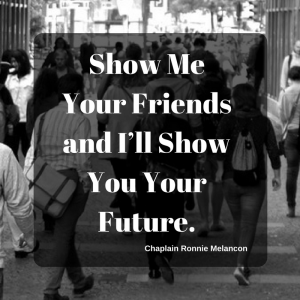 That's not just a lame Facebook quote.
If you want to level up your life, you need to level up the people around you. Life's a team game.
Networking allows you to connect with:
Mentors who have "walked the walk" and can help you shortcut your way through challenges.
Peers who can bounce ideas off of each other and grow together.
Advocates who will vouch for you and introduce you to the right people.
Influencers who have an audience or who can magnify your voice.
Doing the Work
If you're shy or quiet, networking may feel unnatural. But get out of your comfort zone and fake it until you make it. Stop using excuses about why you can't, and in the words of Nike, "Just Do It."
A trick that helped me is what I call the Guitar-Hero Method. If you've played Guitar Hero, you'll know that missing a note doesn't hurt you: you'll just hear an annoying buzz. But the notes keep coming, and if you focus on the notes you missed, you'll lose the ones coming up. Eventually, you'll fail. Stop thinking about your fails and focus on the end goal.
Be honest with yourself: What's the worse that can happen?
Key Strategies to Remember
Let's jump right into key networking strategies.
Extrovert or introvert, remember why you're there.
If you're an introvert, take time to recharge. If you're an extrovert, find conversations that energize you. Remember why you're attending. You're very likely to bump into an Apple engineer who can give you advice or a video game veteran who can help you get funding.
Never eat alone.
This is based on the best-selling book, Never Eat Alone. The premise is to plant yourself in "the action." If you're there already, take the initiative and start "the action." You're not going to get any connections sitting alone in the food court looking at your Dota 2 stats.
Create goals to make it easier.
The team at NerdFitness.com gamified the act of working out into quests, levels, and achievements. Instead of treating networking like a suit-and-tie business opportunity, deal with it like play.
"Today, I'll talk to 10 people." That's my personal goal at every convention. I start easy. When I get nervous, I can remind myself of the goal. The next day, I push myself to bigger challenges: "Interview 5 developers," "Impress 10 journalists," "Connect with three people I respect from the internet."
Be open to change.
The best opportunities are when you just "go with it." In his GDC talk, Anti-Chamber developer Alexander Bruce shared how he wanted to return to his hotel room but was invited to a private party for game developers. He went with the flow and hung out with the big movers and shakers of the gaming industry.
You don't need to be charismatic.
People aren't born with good conversation skills. In the book The Charisma Myth, the author shares how great speakers had to learn the strategies to hold a conversation. You can learn it too, which I'll cover in Part 2 (patience, young party-hopper).
Using IF-THEN statements for networking.
No, this isn't my programming background leaking. Implementation Intention (from the book Rethinking Positive Thinking is a cerebral strategy where you envision your future obstacles, and then create IF-THEN statements on outcomes.
Example: IF you're in a conversation with a gamer who only wants to brag about his sweet Smash Bros skills, THEN politely share that you are running late for an event.
The Homework
Gaming conventions like GDC costs about $1000 to attend. Add the price of sleeping arrangements, food, and travel, and you're looking at about $2,000 minimum for one person.
With that figure, do you want to leave it to chance that you'll be successful?
The best networkers do their homework before any event. Let's jump into it.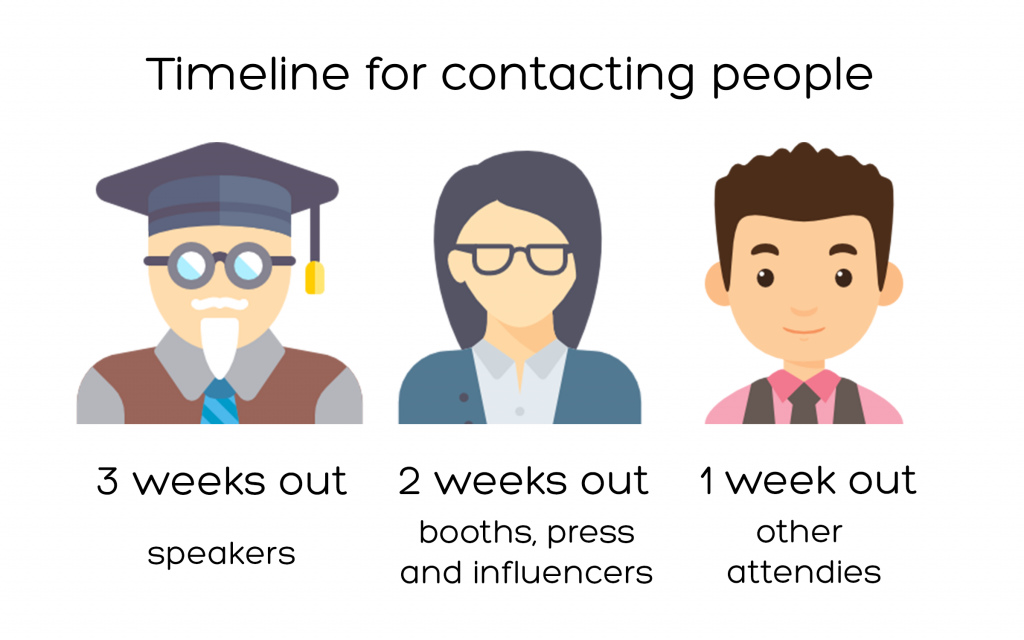 Three Weeks Before: Connecting with Speakers
At this point, the conference should have locked down the speaking events.
Look at the schedule and do a rough outline of what lectures you want to attend. Find the contact information on those speakers, follow them on Twitter, and look into their previous work.
Let them know you're excited to attend.
This research serves two purposes:
You will be familiar with their experience. When you approach the speaker after their event, they will respect you for taking time to do research and you will quickly gain their favor.
At the event, you'll meet other fans of the speaker. The biggest mistake you can make is to go, "Wow, this guy's talk is excellent! Who is he?" only to be told that you were just speaking to Ken Levine.
Two Weeks Before: Connecting with Booths, Press and Influencers
Youtubers, bloggers, and other game developers will start announcing that they'll attend through social media. The expo map may be available, or the official Twitter hashtag will appear.
Let these influencers know. "I'm excited to see your booth at the con!" is powerful. Your enthusiasm makes them enthusiastic.
At a podcast convention, I shared that I was excited to meet my favorite podcasters. When I finally said hello, they greeted me with a huge hug and a free T-shirt, as well as an opportunity to pick their brain. Many influencers also do live interviews during these events. It allows them to generate content by newsjacking on a trend.
A Week Before: Connecting with Other Attendees
You're excited, and so is everyone else. Take this opportunity to find groups to join—like Facebook groups, Forums, or Slack/Discord channels that are explicitly for the event. You can find these groups by jumping on the convention's unique hashtag and asking around. If you can't find any, start one! People always remember the person who organizes the party.
Every day, make an effort to say hello to someone new. They may be just as scared as you are. By taking the initiative, you'll make it easier connect in person.
You can also change your Twitter handle to say that you're attending so others can say hello.
Tools to Have Ready Before Your First Convention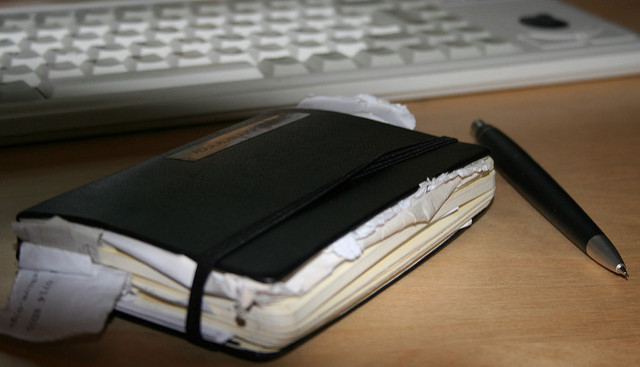 "My Messy Moleskine" is licensed under CC BY 2.0
The List of Names
Professional connectors have a list of names in their head. They laser-focus on these names and don't leave until they make an introduction.
You can print out a list of names and cross them out as you meet them. If someone asks, share what you're doing. Then flip the conversation and ask if there's someone that you have to meet. Many are happy to make introductions.
The Business Card
I hate business cards, but I still carry them.
I spend $15 at Vistaprint for about 500 business cards—with just my name, my email, what I do. Five-hundred is plenty. I've never given out more than 50 at a convention. (Editor's Note: If you're a hipster like me, a local print shop can also do a great job and print on some pretty interesting paper to give your card personality while still maintaining a simplicity of design!)
Keep your card simple. Pick a default template, put in a quick logo, and call it a day. It should take you 30 minutes to set up and pay you back considerably.
At the end of the day, your card is just a way for people to get in touch with you again. As long as you're not making faux pas choices like using comic sans or loading it up with cringe-inducing memes, most people don't care.
The Big Goal
It's not a good idea to attend a $2000 event to just to hang out. Attend every convention with a very specific goal. Maybe it's networking with influencers or connecting with your game developer peers. Write it down and look it over periodically throughout the event.
If your goal is to get the personal email of 10 Twitch streamers, then maybe it's not a good idea to spend all of your time testing all the newest AAA games.
The Best is Yet to Come
With the proper mindset of a networker, doing the homework, and having some tools, you will be much more confident when it's GO TIME.
In the next post of this three-part series, we'll be going into what to do during a Convention.
In the comments, let's hear how you prepare for a convention!