If you love watching Twitch streaming, it's likely you've already heard of PlayerUnknown's Battlegrounds. Bluehole Inc.'s massively-multiplayer online survival game has gotten a lot of traction: the game regularly racks up tens of thousands of viewers at any one time. All of this for a game that, technically speaking, isn't even finished yet—it's on Steam Early Access, still gathering feedback from purchasers who have contributed funds to the game's creation.

But the success of PlayerUnknown's Battlegrounds might not be surprising to anyone who has actually played the game. It packs a punch. Almost every game features terrifying combat, crazy dashes, and epic ambushes. It's an adrenaline rush, and players keep coming back for more.

Originally, the game was an ARMA 2 mod, titled DayZ: Battle Royale. Its creator Brendan Greene, better known as "Player Unknown," joined forces with Bluehole Inc., the South Korean studio, to flesh out the mod into its own standalone game. A simple concept that led to the early access title players just can't get enough of.
So just how did PlayerUnknown's Battlegrounds wind up being one of the most popular unreleased games known to man? What about their marketing has led to this success, and how can you learn from it? A big part of its success lies with the game's marketing campaign, and there's a lot to learn from it!
A Broad Look – How They Did It
Battlegrounds was born when Changhan Kim, an executive from Bluehole, impressed by the ARMA 2 mod, approached Brendan Greene about turning his idea for a Battle Royale game into a reality. He had also wanted to create a Battle Royale style game for many years, and wanted to join forces in order to finally make that a reality.
And they did just that. Greene flew out to Bluehole's headquarters in Korea to discuss the details, and just a few weeks later, became the creative director of the studio. He quickly moved to South Korea to oversee the development, which began in early 2016, with plans to have the game ready within a year.

Player Unknown's Battlegrounds represents what Greene believes is the final version of the battle royal concept. Although he managed to incorporate the elements he had designed in previous iterations, they've been polished and improved upon, then mashed up with new ideas altogether, all entirely based on player feedback. Everything was meticulously selected, even their first map design. Based on Greene's experience with the MMO survival game genre, an island was picked as the first map. The design scope, and all of its terrain features, were to offer players many options for strategic gameplay, from ambushes to cover systems.
But surprisingly, Battlegrounds' central premise is a simple one: the game is all about landing, gearing-up, and winning. A total of 100 players are dropped onto an island with no equipment. They compete until there is only one person left standing. In order to survive, players need to scavenge items from buildings and travel to safe zones indicated by a white circle. The catch is that the circles get progressively smaller as the match goes on, ramping up the danger.
These straightforward rules result in some pretty intense and downright addicting gameplay. They also explain why the game has been so popular on Twitch. These rules allow viewers to join a stream and instantly know what's happening, regardless of how long that particular stream has been going on. Most viewers can quickly understand what's going on. It's not a difficult concept to grasp, so immediately, everyone shares an understanding and becomes engaged. In fact, anyone can spectate, regardless of their knowledge of the game, and still comprehend it all.
To sweeten things further, there is also a good deal of depth to all available loot and weapon systems, as well as tension when watching the games and seeing a player's progress through the round. In fact, basically every aspect of the game contributes to a tense player experience. The decreasing play area, the quick dwindle of player numbers, the close proximity with everyone trying to kill you. It all results in some very tense gameplay for both the players and their spectators. As if that wasn't enough, there's a chance for strange and unexpected things to happen in-game, which means every match is as unpredictable as the last.
An Interactive Community
Clearly, Greene, in conjunction with Bluehole Inc., know how to mold simple concepts into surprisingly brilliant, addicting gameplay. But that's not the full story. The development team has quickly realized just how important community is to the game. To keep the momentum going, they have devised a partner program to let streamers create their own unique servers to play on.
These servers allow the host to change a number of factors, like how fast the safety circle constricts, the weapons being used, and who can join. By using a password, players can create their own private games, get their viewers in, and set rules of their own. Rounds can be melee weapons only. Maybe just shotguns. Loads of loot, hardly any loot—any possible combination.
They can even play with their viewers. For those who want a better look, they can go in as strictly spectators, flying over the map and having a look at what everyone is doing. And they get to see themselves on Twitch!
Because of PlayerUnknown's Battlegrounds tremendous success on Twitch, the team at Bluehole Inc. has poured a significant amount of time into developing the game's online community. Beyond just servers, they arranged a charity invitational for Gamer's Outreach, featuring both European and North American streamers. The event was remarkably successful, raising nearly $225, 000 to improve the lives of others through the use of interactive media.
Looking At the Details
Of course, even though the reasons why PlayerUnknown's Battlegrounds is successful are generally clear, there's more to it. There are always details that deserve a closer look. Details that if they were otherwise missing, the game wouldn't have been as successful, if at all.
First, the Game Was Available on an Official Website
That's right, rather than running to Steam like other developers, Greene and Bluehole Inc. ran to their own website, created a thrilling landing page, and told people to buy it now. By making it available for purchase there first, using the popular Xsolla Pay2Play widget, a system that allows developers to freely distribute their games and DLC content directly from official websites, they created a convincing argument for players to get the game. They made it easy for players to obtain game keys, and then turned their attention onto both ongoing player acquisition and retention. They invested time and effort into community before making it available on Steam Early Access.
But just what makes a landing page so convincing? Steam has long since exceeded 125 million concurrent users, all of whom are exposed to well over 10,000 games. And all of those games are your competition, so anything you can do to differentiate yourself from the thousands of other Steam landing pages will help. It's easy to get lost in the shuffle with so much noise.
Selling a game on your own website first eliminates that issue altogether. The landing page alone is like one giant proposal saying, "This is why the game is worthy of investment." It's a giant convincing ad filled with screenshots, trailers, game details, and then some, all of which is aimed at getting readers/viewers to hit that "Buy Now!" button.
And making the purchasing and distributing process is highly important. Players don't want to struggle with the payment process, they'll get fed up and leave the site altogether. And they definitely don't want to feel like they've paid for nothing. Hence, the distribution process needs to be seamless, with an easily downloadable game ready to go.
Then There Are the Influencers
PlayerUnknown's Battlegrounds has been a massive hit with gamers even before being officially launched. And it's being polished with every new patch. The team's willingness to listen to its fans, as well as the game's simplicity, and randomness, has made it perfect for streamers trying to build a following. But the relationship hasn't been entirely one-sided either – streaming has played a major role in its growing popularity.
"The heart and soul of battle royale—the idea of looting, then fighting with other players—is good for streamers, especially the starting part," Greene explained to NY Magazine. "It's a bit slower, gives streamers a chance to interact with their chat [audience members], and then there's action later."
Take, for example Chris "Sacriel42" Ball. He's a popular Twitch streamer, known for playing a lot of survival shooter games. He began streaming full time in 2012, and played—you guessed it—DayZ. In an interview with Polygon, he explained his love of PlayerUnknown's Battlegrounds:
"I've always loved how PlayerUnknown finds a wonderful balance between skill, action, stealth and luck. In the past he was only able to craft his work by using other people's engines such as Arma 3 and the original H1Z1. Unfortunately, this led to very slow development times and inconsistent progression because he wasn't in charge, he was simply the visionary. Now he's working on his own fully-fledged project he is able to take complete control."
Imagine watching a live stream of Ball playing the game and rambling on about why he's having a great time. Engaging with his viewers, all commenting on the gameplay, asking questions and bonding. Now imagine what that does for the marketing. There's a clear connection there, of influence that spreads to the viewers, who then even have the option of joining in.
What's interesting is that Ball is not receiving any compensation for playing the game. He simply received a Steam key to get into the beta. And ever since, he's been providing feedback about Battlegrounds on his channel for weeks, has participated in beta weekends, and even competes with fellow Twitch streamer "summit1g" for the highest views. Summit1g has the medal for 30,000 viewers at one time, while Ball has had 4,000. And this is all just two players with a lot of influence, playing a game they're not even paid to promote.
It's influencers like Ball and summit1g that have contributed to the phenomenon of PlayerUnknown's Battlegrounds. And the impact of their actions is actually measurable in valuable data. Data that the development team can then use to improve on the game, and cater to their players even more.
Take a look at the chart below. June 6, a total of 75 days after its release on Steam Early Access, the game was played by 185,607 people. There are 3,004,657 game owners—people who have contributed money to helping the development of the game. In the last two weeks, there have been a glorious 2,240,496 players. More so, there have been 6,862,871 views on YouTube, with over 50 videos uploaded in a single day sometimes (like June 6).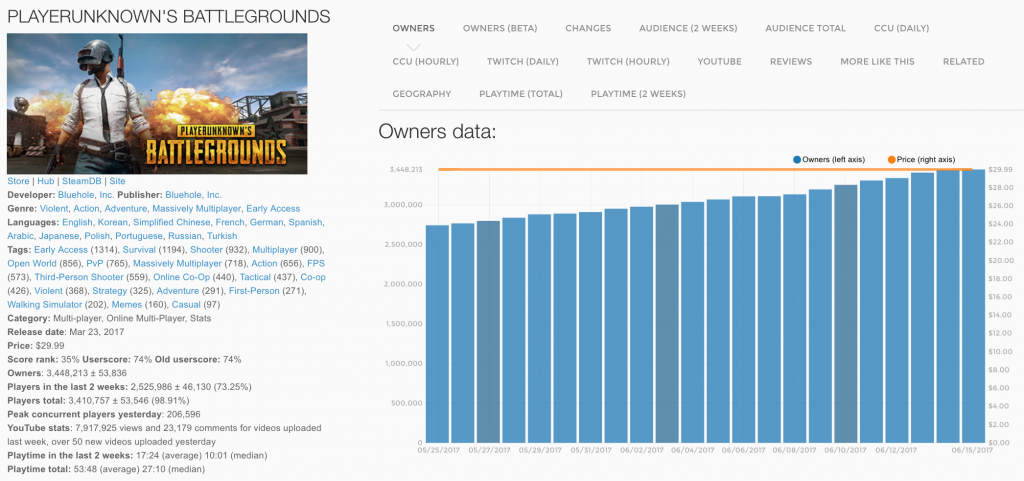 Finally, They Used the PR Firm Ayzenberg
The Frontline agency in partnership with Bluehole Inc. is a hugely popular one. Based out of Los Angeles, the Ayzenberg Group works with Microsoft, Disney, Facebook, Xbox, EA, SEGA and Zynga, to name a few. The firm prides itself on collecting data all over the web, creating the best possible marketing plan based on said data, and then sharing all pertaining marketing material in places where the exact targeted audience is located.
The firm does a fine job of describing their approach:
"At Ayzenberg, we've always been focused on Generation Now—influential consumers who are not defined by demographics, but by their ability to instantly recognize the value of a product or service, and to share their passions with others. By tapping into the power of Generation Now, we help bring our clients the most innovative, efficient and effective solutions for their marketing needs."
Some of their popular services include affiliate analysis, to see who would be ideal for your marketing campaign, brand personality development, to get you out of your box, and ICN, an Influencer Channel Network aimed at connecting you with players who want to stream your game. They even take care of developer social channels, create video brand stories, analyze the audience, and provide web analytics reporting to ensure you know if their strategies are working.
And when it came to marketing PlayerUnknown's Battlegrounds, they didn't fail to deliver results. They promote their social media, and connect the studio with influencers. Clearly, Bluehole Inc. made the right choice when selecting an agency.
Games Are Only as Successful as Their Marketing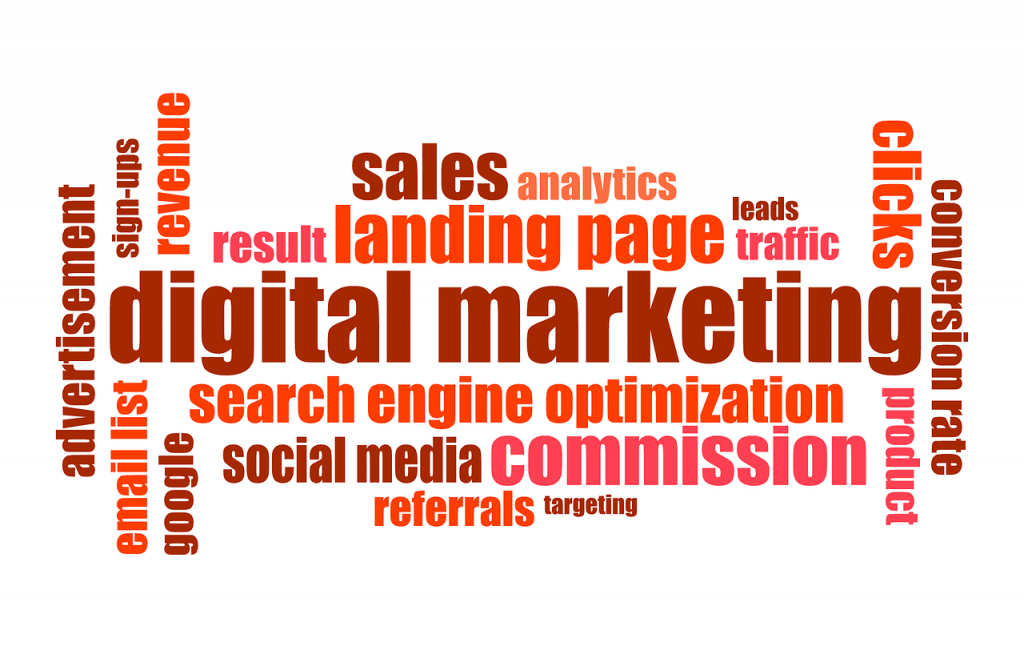 There's a lot to learn from this success story. PlayerUnknown's Battlegrounds is everything that Greene and Bluehole Inc. wanted, but molded according to player wants and needs. By putting everyone first, including the players and streamers, the game quickly grew into an addicting, creative, immersive experience that can only be labeled as a phenomenon. And in becoming this, it's grown exponentially.
To further improve their chances of success, the team launched a convincing landing page and made their game available that way, before going on Early Access. This enabled them to focus on player acquisition and retention, with the aid of influencers on Twitch.
And it's these steps taken that prove that success can be achieved, even before an official game launch. That is great news for any developer willing to listen. Breaking it town to a simple system, launching a game on your website, building the community around your game, and then using the feedback acquired to mold your ideas into a perfectly simple, yet intense game, is all it takes.
But that's not all. Connecting with the right people matters a lot. It can't possibly be underestimated – Battlegrounds has an influential PR team and Twitch streamers behind it, making it possible to consistently market the game. It's been building a community since it first popped onto the scene, and it's not even officially released yet.
For games heavily focused on social aspects, like a massively multiplayer online survival game, this is sacred information. It won't matter that your game is amazing if no one plays it. The second that players begin falling off the bandwagon, the era of glitz and glamor is over. And it seems no one understands this better than the Bluehost Inc. team and Brendan Greene. They keep the momentum going, despite the fact that most players lose interest shortly after a game goes into Early Access. And they do this by giving players exactly what they want: a game that is both fun to play and watch.
So next time you have a game idea, and you're wondering if it could be successful, consider the path that PlayerUnknown's Battlegrounds has taken. How can their approach to community engagement and marketing through influencers help make your goals a reality?
This is a sponsored article that includes a paid promotion for Xsolla.