Here at Black Shell Media, we find ourselves extremely lucky to build relationships with a wide array of developers from different backgrounds. Each and every one of our developer friends took very different routes to end up where they are today, published and professional. This interview series gives you a peek behind the curtains into the everyday lives of some of our best development partners, both in-house and out, and highlights exactly what it took to turn them into the game developers they are today.
---
This week, we're talking to Luca Porrino of Expera, a classic game development studio focusing on point and click adventure games. Their latest title, A Tale of Caos: Overture, recently got through Steam Greenlight and hearkens back to the games of the late 80's that stole PC gamers' hearts. Gamers who like Monkey Island and Maniac Mansion should definitely read on.
Black Shell Media: How long have you been developing games personally and where did it start?
Luca Porrino: This whole adventure began when I was just a teenager. My best friend (who's currently also my business partner) and I grew up with a common passion for games and video games. As teenagers, we developed many board games and some video game prototypes, but we had to wait some years to gather all the experience and resources needed to start our journey to professional game development. In fact, we officially founded our team just in January 2015.
BSM: How did you come up with your studio name?
LP: Expera was the name for a board game we prototyped many years ago. This name was meant to include in one word many feelings: empowerment, growth, and self realization. The word was born as a transmutation for the Latin motto "per aspera ad astra" (through hardships to the stars) and the term "EXP" used in old RPG for "experience." Looking for a team name, we decided that such a name was perfect to represent our core values.
BSM: How many people are on your core development team (including contractors), and how did your team get assembled?
LP: Right now, our core team counts two people: me, as Team Leader and Programmer, and my partner Eli Daddio, as Story Writer and Lead Artist. Furthermore, we can count for the current project, A Tale of Caos: Overture, two more people: Andrea Pagani, a professional music composer, who is writing a full OST for the game; and Davide Penna, a professional graphic artist. As I said, Eli and I began our adventure together from the beginning; Andrea was entertained from our first game and decided to work with us; and Davide found us on the internet, deciding to join us for a feeling of connection with us and our core values.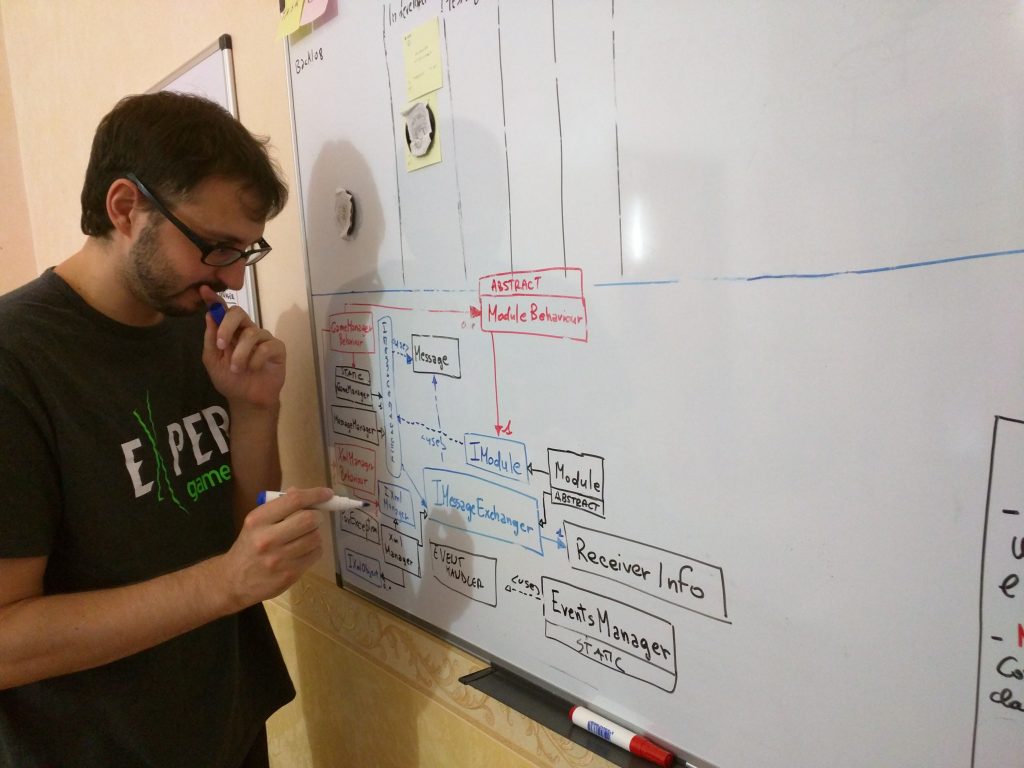 BSM: What is your educational background? Did any of your studies directly help you in becoming a game developer?
LP: I graduated in Computer Engineering in March 2011, with a specialization in software architectures design, writing my final thesis about the software architectures of 3D game engines. After the degree, I worked as an IT consultant for a few years. This study and working background helped me a lot to achieve the management and development skills, together with the mindset I needed to start and guide my own game development company.
BSM: What made you interested in working on projects in this genre?
LP: First of all, both Eli and I grew up playing the classical late '80s point and click adventure games (Monkey Island, Maniac Mansion, Zack McKracken and the Alien Mindbenders, and so on), a game genre we still love to play today. Moreover, one of our main strengths consists of making a good, engaging, and deep story. Because of these reasons, we decided to develop games in which the story telling would be the core mechanic. Anyway, we also like other genres, and we hope to make some RPGs and strategy games, too.
BSM: Why did you decide to take on a project of this particular scope and scale?
LP: When we started our adventure in game development, we didn't have professional experience in this industry, so we decided to adopt the "Lean Startup" and "Agile" methodologies to gain experience and get immediate feedback from our players. Being a very small team, we opted for a game genre that released in episodes, which would let us release small games in small time chunks, keeping a good and manageable final quality. Because of the very positive feedback we received this way, and having developed a specialized framework to develop graphic adventures, we decided we were ready to release a bigger game on Steam.
BSM: Given that games can change quite a bit throughout development, what did your game look like early in its development cycle?
LP: In its first version, the game was thought for the web browser gaming market. Halfway through, we realized that the game was, both in quality and duration, far better than a typical casual browser game. Because of that, we decided that the game deserved more. We passed through the Steam Greenlight process working hard to improve it more and more. In its very first version, the game mainly lacked in its graphic design, an original sound track, and some minor features, which were originally designed for a casual web game.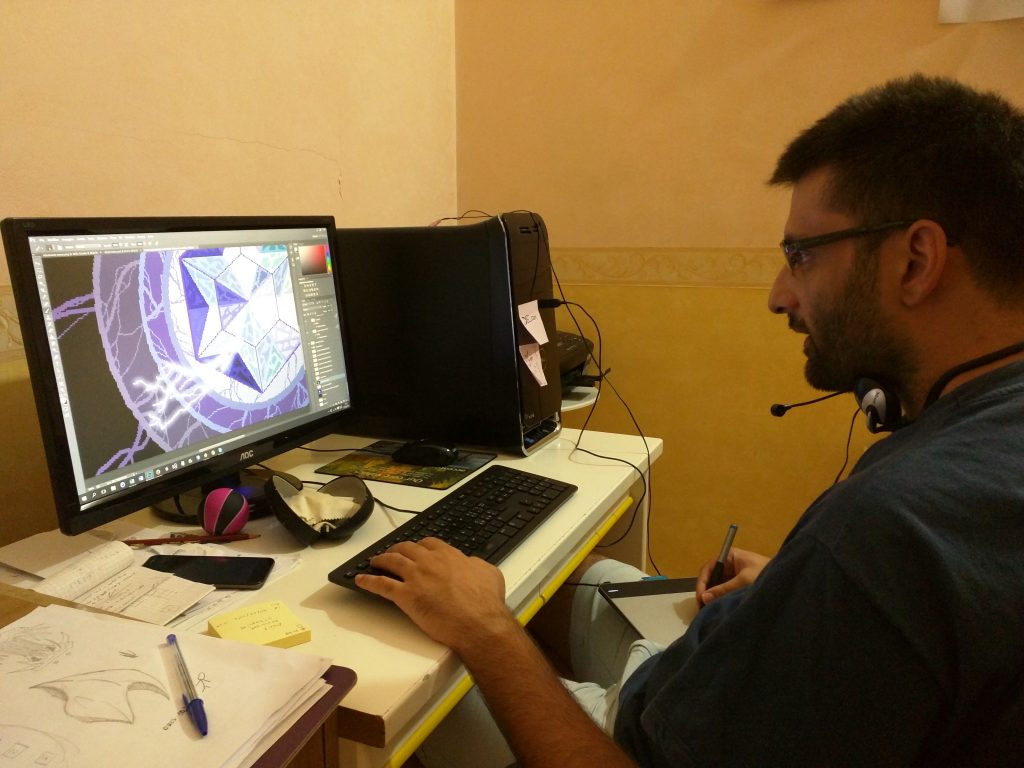 BSM: Describe a typical day of game development for you. What is it like?
LP: To be honest, our working day never really ends. We wake up thinking about our projects, and we don't stop thinking about them until we go to sleep. As an example, anyway, I start working in the morning: I read the e-mails, I plan the work day for the team, and I work on my tasks (which usually consist in software architecture design, coding, and game design choices) until the end of the day. Of course, through the working day, we find the time to have a little fun, play some games, and keep in contact with our players, fans, and media accounts.
BSM: What were some challenges you had to overcome in the development process?
LP: Until now, we met three main challenges. The first one is being a very small team. It means that each of us must cover many roles at once, which implies a lot of stress and pressure. The second one is having a limited budget, which is a huge obstacle to finding good collaborators and external resources. The last one is living in a social context not really favorable to this industry: we live in Southern Italy, where the economic situation is pretty fragile and doesn't support startups—especially when it comes to video game development.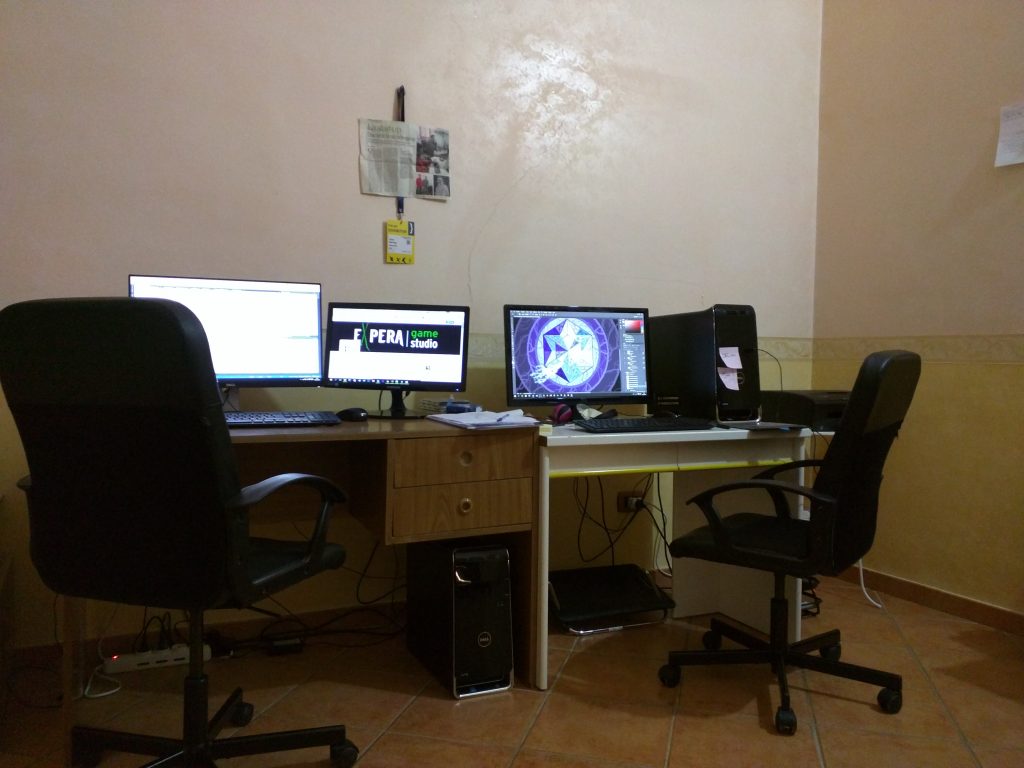 BSM: What are some of your favorite parts of game development?
LP: I love developing games so much that it's hard to make a choice . . . but if I have to, I'd say I very much enjoy the whole brainstorming and game design process. It's awesome to see how, starting from a little spark of inspiration, a new idea takes form, growing into a whole new game, evolving itself as if it were alive. I also enjoy the software architecture designing phase. Last but not least, it gives me a thrill to think that, once released, my game will be experienced by thousands or, hopefully, millions of players.
BSM: What's next on the horizon for you both personally and professionally?
LP: I think that my personal life will be strictly connected with my professional life. My professional future is in the games industry, and I'll do anything I can to create a big game development company, doing the impossible to create wonderful games that can be remembered forever as true pieces of art. In the immediate future, with the release of A Tale of Caos: Overture (trusting that the players will like it as much as it deserves), I'm aiming to expand the team so that our next game will be far better than what we've done up to this point.