According to a SuperData study conducted in February 2016, digital games are worth $6.2 billion a month. That's a 10% jump compared to the previous year. It's no wonder studios like Electronic Arts are expected to be "100% digital" in the "near future." Digital games mean money, money, money.
In fact, the potential of making a profit off of digital game sales is so high now that the market is oversaturated with hundreds of indie games releasing every day, that distributors are at war these days. With more and more games being created and downloaded online, controlling their distribution has become a key issue. Everyone wants to distribute more games, but there are some glaring problems, like DRM choices, regional incentives, audience targeting, and yes, competition.
Some distributors, such as Ubisoft's UPlay, are intended to control the distribution of its own games, both to avoid giving too much to partners, and to not have to deal with any distributors that are near-monopolies. But that's precisely the problem: the near-monopolies have the largest audience.
Consider Steam, along with its 125 million users, and well over 10,000 games. This distributor is now leading the PC game distributor war, making it an attractive partner for publishers who want to tap into the largest player base out there. While some question whether it holds too much power, the truth remains unchanged—for better or worse, the platform grants the most exposure and sales potential. It is unmatched in both the number of games available, and the number of users. 
This begs the question of whether other digital distributors have what it takes to compete. And if Steam is clearly unbeatable, then what benefits can come from choosing an alternative distributor? In this article, we'll discuss 6 alternatives you may want to consider, and explain who would benefit the most from each one.
1) Itch.io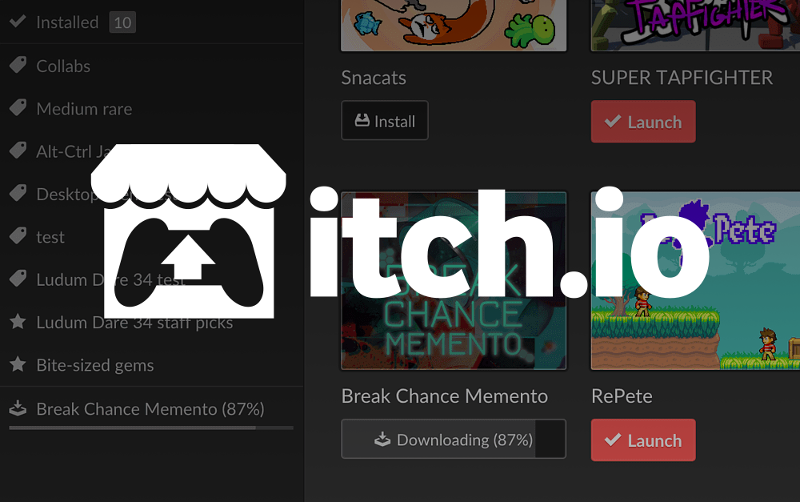 Released in March 2013 by Leaf Corcoran, a San Francisco-based programmer, itch.io hosted almost 40,000 games back in July 2016. That is more than twice the number of games hosted in 2015, at only 15,000.
What began as a humble "pay what you want" model has turned into something often described as "the littlest next best thing in gaming." For anyone who loves to play weird, wacky video games for cheap, itch.io is basically the best option. There's games about speed dating pugs, battling doppelgangers and even a Jurassic Park recreation.
The distributor has paid a total of roughly $393,000 to the developers whom create games unlike the ones you'd find on more established competitors, such as Steam.
In fact, Corcoran began building itch.io when Steam Greenlight introduced the submission fees, currently set at $100. Clearly, thousands of developers were left outside of that system, and needed a place to go.
About the subject, Corcoran stated:
"For them it was probably a good move to prevent a massive influx of games. The problem is that it's a closed system and that's not fair to developers."
In other words, itch.io is the ideal distributing option for developers who feel trapped, and who want to create strange, addicting games. Flexible monetization funds the platform, so when developers publish a game, the distributor suggests that they donate 10% of all sales back to itch.io, but the developer doesn't actually have to. In the end, developers only give back what they're comfortable with, much like the players.
89% of the games on the platform are free, with only 44% accepting money. The average donation is $3.98, but people normally opt for the $1 to $5 margin. This makes you wonder whether it's worth hosting a game on itch.io, with such small profit margins, but if you consider the fact that there is less competition on itch.io versus other third-party distributing platforms, it might not be such a bad idea after all.
Also, it's come to our attention that another alternative that makes things easier for developers, much like itch.io is PatchKit, complete with hosting, automation, and dedicated launchers for every game. Available for Linux, Windows and Mac, the option is free for indie developers, making it perfect to try out in coexistence or separately from Steam.
2) GOG
GOG, formerly known as Good Old Games, is another option. This digital distribution platform service is a subsidiary of CD Projekt RED, known for their Witcher series, and openly public fight against DRM.
Famously, in an interview with Forbes, The Witcher 3: Wild Hunt project lead Konrad Tomaszkiewicz stated:
"In my opinion, DRM is the worst thing in the gaming industry. It's limiting our rights to play games owned by us. Let's imagine that you have a game that requires Internet connection to prove that you actually bought it. What if you lose your connection because of your Internet provider? You can't play anymore."
GOG's DRM-free model has made it a popular among gamers looking for older games, as well as select AAA and indie.
The subsidiary has made several changes over the years. What began as an attempt at making older games more accessible quickly expanded. In October 2012, GOG brought DRM-free games to OS X. Just two years later, they also launched Linux support with an initial 50 compatible games. In 2013, they introduced a 30-day money-back guarantee, while in 2015, they began offering "DRM-free downloads to holders of game keys from boxed copies whose DRM validation systems no longer operate."
Despite all the exciting developments for the subsidiary, few changes are quite as exciting as their March 2017 launch of GOG Galaxy, a storefront, software delivery, and social network client that allows players to play games purchased through GOG. The platform was favorably reviewed by critics as being focused on user respect. The client software is entirely optional and based on the company's DRM-free belief, even promoting sharing games with others.
The prices of products range from $5-10 for older games, with some higher priced new releases. Much like Steam, GOG offers sales several times a week.
Developers who are looking to release DRM-free games would benefit greatly from partnering up with GOG, as it is largely considered the pillar of the DRM-free movement. The platform believes in gamer respect, and their right to own what they purchase. Prices aren't as high as other platforms, but the ROI isn't necessarily low. More than 70 million people have visited GOG.com, and users have over 45 million games on their virtual shelves.
3) Green Man Gaming

The U.K. answer for distribution comes in the form of Green Man Gaming, an online game retailer with over 5,200 games from over 450 publishers. It boasts direct partnerships with studios like Capcom, Ubisoft and Square Enix, to name a few. If you're American, don't fret. 90% of the company's revenue comes from outside the U.K.
Green Man Gaming offers games that players can enjoy on almost every platform, including PC, Mac, PlayStation and Nintendo. And their outreach is massive—190 countries! This makes it an obvious platform for developers looking to obtain a worldwide presence, not just an American following.
Speaking of developers with grand aspirations, Green Man Gaming describe themselves as a team that helps developers every step of the way, helping them "navigate the challenging route to market, meet the demanding needs of today's market and gain maximum exposure and revenue for their games."
Their About section sums their system up nicely, explaining:
"Green Man Gaming's Publishing arm works with developers to help publish and market their own games, supporting them every step of the way. Our vibrant online community also connects gamers and rewards them for in-game activity. This gameplay data allows us to further improve the overall gaming experience."
That being said, Green Man Gaming isn't without its flaws. While it does sell new releases, and hold sales regularly, the sparse browsing tools and noncompetitive library doesn't make it a first choice for players. This means from a developer standpoint, you'd be putting a global outreach before an optimal outreach. Yes, your game would be all over the world, but it wouldn't reach as many players in each region as another distributor would.
4) CDKeys
It offers DRM for Steam, UPlay, Origin and Battle.net, but varies. Offline mode also varies by client. But this reseller marketplace is definitely an option for players seeking game keys supplied by "authorized distributors."
The reason why CDKeys is a good option to consider is because even though it is a reseller, CDKeys isn't a marketplace. This means less risk for the customers. It's highly unlikely that anyone will be purchasing a key fraudulently purchased with a credit card chargeback. Just keep in mind that Steam has banned or locked accounts for activating keys across regions using a VPN.
CDKeys offers super low prices on the keys, but it does not provide the common experience. Normally resellers have a bad rep, and are known for things like allowing the purchase of keys with stolen credit cards and chargebacks, which in turn harms developers. Instead, CDKeys keeps the safety of everyone in mind. Players are buying from CDKeys directly, not other users. Also, nearly all available keys are for worldwide use.
The storefront is designed in a very streamlined way, making it easy to navigate. It isn't loaded with advertisements like other resellers. However, CDKeys isn't perfect either. The game pages seem a little lacking in detailed information compared to more established sellers like GOG, or Steam.
5) GamersGate AB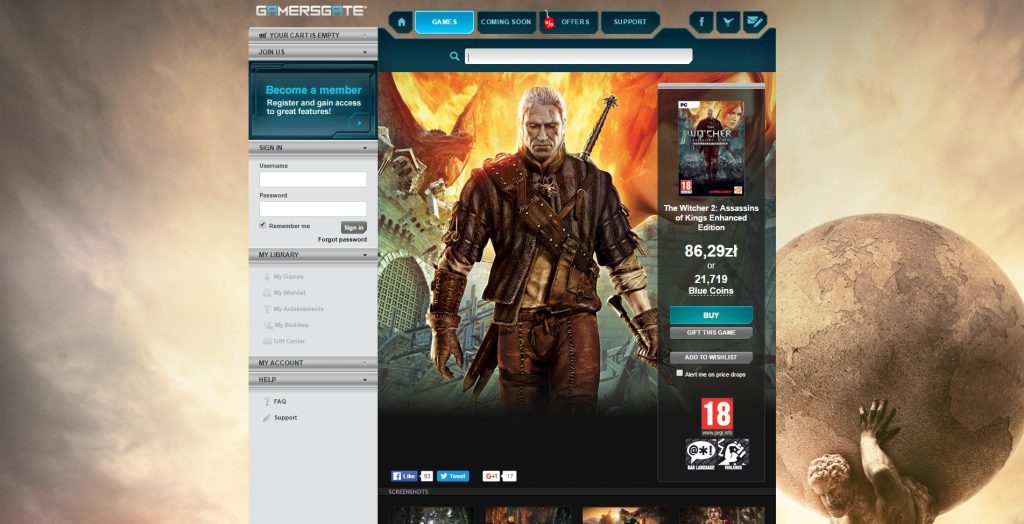 Formerly known as Gamer's Gate, this Swedish distributor offers directly downloadable games for Windows, OS X, and Linux. It currently sells games for over 250 publishers and developers, including Capcom and Ubisoft, and now consists of over 6,000 games.
In the grans scheme of things, despite it's impressive numbers, GamersGate AB is small. When compared to itch.io's 40,000, this doesn't even scratch the surface. But then again, 6,000 is still a large amount of  games.
Furthermore, the company is a pioneer in the industry, being one of the first stores to offer downloadable content for PC games. It was also one of the first to allow developers to insert DLC micro-transactions.
As Origin's complete opposite, GamersGate AB is intentionally client-free, after CEO Theo Bergquist stated they want to be different than Steam. In fact, they are DRM-free, and have publicly advocated for the building of mutual respect between players and industry professionals.
It should be no surprise then that GamersGate AB's parent company was actually Paradox Interactive, the development studio behind The King's Crusade and Mount and Blade: Warband. The studio is known for consistently avoiding the use of DRM.
GamersGate AB is a great choice for developers looking to have more of a European following, while maintaining a firm DRM-free stance.
6) GameHouse
Based in Seattle, Washington, GameHouse is a game developer, publisher, and distributor of PC, Mac, and mobile games. It offers over 2,300 online and downloadable games.
The company went through several changes before becoming a large distributor. It was first exclusively a game studio, before being bought by RealNetworks, the provider of streaming media delivery software. Then, they united with RealArcade game service, which led to a giant migrating process.
The thing about GameHouse is that they are not the type of distributor that would sell any hardcore games. There are no AAA games on there whatsoever. There are no RPGs or FPSs. It carries Mahjong, puzzle, hidden object and card games, to list a few. Some of it's most popular series include Big City Adventure, Fantasy Mosaics and Jewel Quest.
In other words, unless you're a casual game developer, chances are GameHouse is not the publisher for you. However, if that is your niche, it may be worthy to mention that the company is large in the casual gaming sector, and features an innovative approach to sales models. Players get to try out the games for a limited time, 60 minutes, after which they either need to uninstall the games, or purchase them. There are also GamePasses available, where for a monthly fee, players get one game of their choice at no additional fee, and $5 each game purchase.
7) DotEmu
Originally just another game development company, this French distributor grew from a B2B model, to a B2C approach. Its distribution service predominantly provides older PC games, which can be purchased and downloaded without DRM. If it sounds a lot like GOG, it's because they are technically the French equivalent.
However, one thing that sets DotEmu apart is the lack of downloading hassle. This distributor works with mobile games for both Apple and Andriod, and online games you can play in your regular web browser. It also features computer games and Flash. It now features over 267 titles, including packs, with most of them being multilingual.
This market is obviously very niche. Their sales are predominantly European based. Located in smack in the middle of the City of Lights, DotEmu is not exactly for everyone. While it has worked with Square Enix, Yoshihisa Kishimoto from the Double Dragon series, and even Shinji Hashimoto from Final Fantasy, the distributor is not really that popular in America.
For developers considering partnering up with DotEmu, consider your fan base. This is a small, niche distributor. It's not the kind that will bring in fame and fortune. It is very much for the artistic developers looking to share their game with a few people in Europe, really. But don't be fooled, they do demand quality games.
Game Distribution, You, and Your Team
Sure, Steam is the leader in the distributing war. It is where most games are found, and it has the most partnerships with developers than any other distributor out there. However, it's a near-monopoly, controlling how digital games are sold, managing DRM for thousands of games, and even helping to kill physical game copies. The entire PC gaming market is in a bit of a problem these days.
That's where you as the developer can make a difference. Yes, Steam controls everything and as a result, it's the best option for game distribution, hands down. It's where all the games and players are. But if more developers opted for another distributor, competition would rise. It would keep one platform from controlling the entire market.
Now, every distributor has its flaws. Steam and Origin are blatantly proud of their DRM systems, GameHouse is just meant for casual games and itch.io is mainly meant for quirky developers who don't mind a "pay what you can/want" model. GamersGate AB and Green Man Gaming are small compared to the other distributors.
So it all basically boils down to you, and your development team. What are your needs, wants, and goals? What platform offers the means of making those things possible? And also, what platform aligns with your beliefs? In the case of DRM, there's two sides to every coin. Some developers feel more secure with DRM, and prefer to be on a platform that advocates it. Others don't believe in it, and want to be on a platform that respects players more.
Whatever your stance, remember, there's a distributor out there for you. Map out a plan of action you can stand behind proudly.
---
As always, remember if you enjoyed this article, don't hesitate to share it on social media! We love making new friends here @BlackShellMedia, so feel free to tweet us your opinions or thoughts on the matter!