Going to GDC this year? Congratulations! It's a fantastic step to take toward a career in games. Whether you're only starting out or well-established, there's something for you. However most of these perks involve meeting people. If you don't already have a team you're meeting up with, this can seem rather daunting, but don't forget: One of the main points of the event is networking. That makes things a little easier, knowing everyone is willing to talk to you.
But just how do you meet these people? There's so much going on at GDC, with most developers walking from place to place trying to catch sessions that it can make you feel like you're ruining their carefully planned schedule! What do you do?
Embrace Your Inner Social Moth
Have you ever seen someone standing idly by a counter, not a care in the world? Maybe they ordered a drink and they're waiting, or perhaps they're debating what to do next, because there's a gap in their schedule. Those are the people you want to go up to, they're the flame that your social "moth" should be drawn to. Spark a conversation with them. Yes! Talking! In person!
If it seems weird, don't worry: it's only weird if you make it that way. Most people at GDC are thankful when others approach them, because that gets a conversation going. If you take initiative, you can meet someone new, and that person might introduce you to his/her friends there too—and if they're by themselves, you may just become their friend.
Now, if someone is obviously looking around for something, or is decisively walking in a specific direction, then they're going somewhere. They're catching a session, meeting a friend, or grabbing a quick coffee before a specific time in their schedule. Leave these people alone!
Strategically Selecting Sessions (S.S.S.)
GDC is made up of three things: events, sessions, and the lapses of time in-between. Everyone has a schedule they want to ideally follow and sessions that make their list of interests. If you use the GDC Session Scheduler, you can compile a list rather easily. Simply check out the times and dates, and try to pick sessions that don't entirely overlap (if you can help it). Better late to a session than never getting to it.
Now, what those new to GDC don't realize is that some sessions are filled with people trying to network. Sessions on networking are dead giveaways. Other sessions involve the really popular ones that no one wants to miss. Last year, it was anything VR. This year, it'll be indie content because that's what's in full swing.
But what works best is actually the small niche group sessions. For instance, if you're a female game writer, and you're in IGDA, you should attend their SIG session, which is small and niche. It makes it easy to include yourself in conversation and be genuinely heard. Not to mention they always encourage networking after the session is over.
Pro Tip: There's a session for every SIG, even one for student members of IGDA. If you aren't a member already, you should be, since many developers make it a mission to meet other members at GDC. Students even get a discount.
Attending Events Every Night
Yes, we're encouraging you to attend events, and especially those held in bars. Why? Because many indie teams agree to rent out bars in the area to showcase their games to the press. Last year, there was a Dutch party, held by all Dutch indie developers. They rented out a gothic, black and red nightclub called the Harlot, where everyone could meet and greet, drink for free, eat, and play games.
There is at least a handful of these every single night of the event! Some events are small, others are massive, but if you're having a hard time finding one to attend, just ask people around. Someone always knows something, and people can get you in. If you make a new friend or two, just join them for the evening. That's the thing about players/developers: people are laid back and easy to get along with.
GDC Isn't Just A Series of Buildings . . .
. . . It's a few blocks huge. Whenever you leave the event, you can walk at least three blocks in any direction and see people with badges. Meaning that if you're on a trolley and see someone else with a badge, you have something in common. That's an opening for a conversation right there. Ask if they're from San Francisco, see if they know where the good coffee is (it's at Bread & Cocoa, and yes, I learned that from a developer living in San Francisco). Maybe ask if they're there for the duration of the event, or if they're planning any sightseeing too.
Between Business Cards & Social Media
The most common method of staying in touch at GDC is handing out business cards. If you haven't made them yet, do it now, you'll need at least a 50-count, but it doesn't hurt to have more for future networking. Keep the design simple yet eye-catching in order to stand out in a good way. Too many business cards are covered in all sorts of designs, making them easily lost in a giant pile of papers, which most developers end up halfheartedly sifting through three days in and then tossing.
However, the surefire way to stay in touch is to immediately connect with them on Twitter and Facebook. Before they forget where they met you, and what game you're behind, just look them up. And if you find that creepy for whatever reason, just politely ask them about it!
If All Else Fails . . .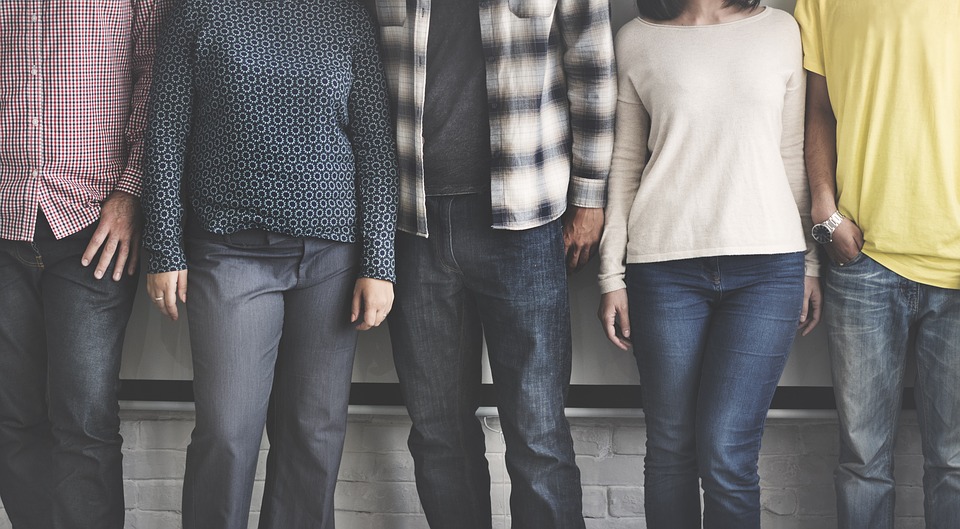 Walking to different sessions, there are many people standing around in the middle of the lobby. These are usually people with time to kill, debating where to go, what to do, and how to meet people. Make it easy for them, walk up and say something about their t-shirt. Ask how they're enjoying the conference and if they're overwhelmed already.
If you aren't the type to walk up to people, but you want others to approach, be the person standing in the lobby. And wear something comment-worthy, like a video game shirt. Manga and other geeky shirts and accessories also do well (Editor's Note: These are my go-to's, as video game shirts at a video game conference are, to me, kind of like wearing the shirt of the band you're about to see live). And yes, people will comment on it!
Don't Sweat It!
GDC isn't just about the experience and the knowledge gained during the sessions. In fact, the essence of GDC can be found in the interviews you walk past, the people you rub elbows with, and the questions you get to ask. As a member of the press, I enjoyed when developers would ask me how to get noticed by the press, and how to get feedback on their game.
GDC is a place of unity. Everyone there loves games, makes or plays games, and is ready to meet someone new. Remote indie teams meet each other all the time at GDC. Romances flourish, friendships are made, and guilds are strengthened. Don't waste your money by not at least attempting to make a friend.